Laser-CutZ is New York local rapid prototyping and engineering shop. We provide fast laser cutting and engraving services to internet and Tri-State Area clients (NY, NJ, CT). Walk in customers are always welcome, although it is recommended to schedule and appointment.
We can work with various types of materials including acrylic or plexi, ABS plastic, wood, lather, paper, fabric, glass.  Our machine is capable to do deep cuts even in high thickens materials such as armored glass! For engraving or etching we can do most organic materials that we can cut plus ceramics, bottles, glasses, phone covers such as iPhone or iPad, anodized metals.
We are capable to do laser cuts withing 900 x 600 mm worktable. Maximum material thickness is 100 mm. We accept AutoCAD (*.dxf) and Adobe illustrator 3 (*.al) file format along with bitmaps in BMP or JPEG. It is highly preferred to have  cutting files to be delivered in vector formats for a better results. DXF is best file format to work with.
All vector files are cut by vector guideline where all raster files such as JPEGs are cut dot by dot as result quotability if the cut is reduced. For engraving format of the file has minimal affect on resulting product quality.
If you need laser cutting job to be done fast (same or next day) please call in to check material availability. We can deliver job to you if needed. Manhattan customers can send in your courier to pick up jobs when they are produced.  All regular orders are shipped via UPS or USPS upon completion. We do not hold jobs to meet your requested processing time, all jobs are done on first in first out basis. Average turnaround is about 2-5 days.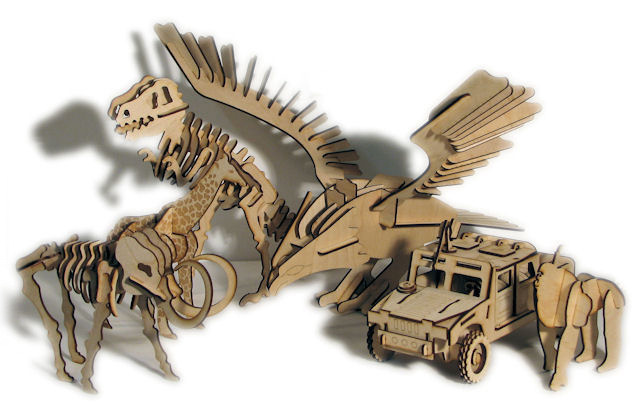 Laser-CutZ -Cutting, Engraving, 3D Printing, Prototyping
NYC Local rapid prototyping shop, same day service on laser cutting and 3d printing is available. 3D CAD design and engineering, mechanical and industrial engineering, electronics design and PCB layout, creative art services
LaserCutZ
2556 East 17th Street
Brooklyn, New York 11235
(646) 657-2626 Ext 3