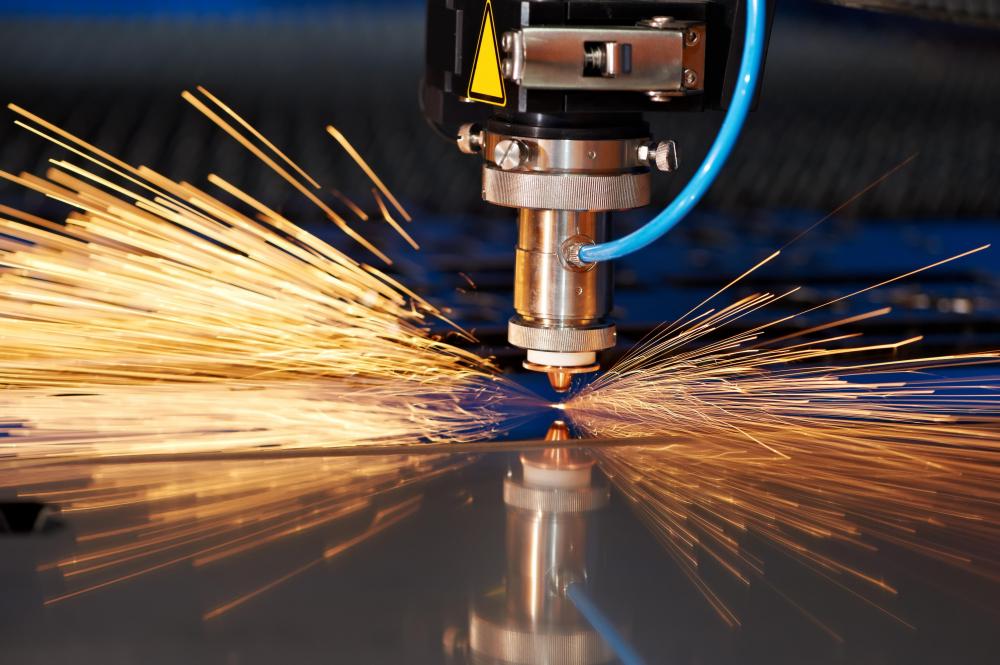 CO2 Laser Cutting
100W CO2 Laser used to cut any organic material.  This includes most common forms of plastics including APS and acrylic (plexi), wood, rubber, paper that can be burned by heat. CO2 laser is similar to the process of using lens under direct sunlight, the sun rays are captured, focused to one point and heat in that point burns out the material.  Laser cutting is very popular with artist, engineers, marketing, and fabrication. Flat sheets of materials can be cut to parts very fast. For example example front letter signs can be fabricated with laser cutting machine, same way acrylic can be cut for engineering prototypes.
CO2 Laser Engraving
Engraving is process of adding permanent marl to the surface of the object. Unlike printing, laser engraving removes top layer of material which ultimately makes such mark permanent, scratch resistant and more durable. CO2 laser engraving machine can etch text or any custom artwork to most materials.  Deep engraving can be used to create elevations, for example when fabricating stamps engraving goes very deep and creates embossing forms.
Fiber Laser Engraving
Working with metals requires special equipment and special wavelength. Laser-CutZ is one of few companies in NYC who has fiber laser machine which is capable of engraving on metal with extreme precision.  Our laser metal engraving machine is capable to engrave and color inverse just about any metal material that exist. Machine bed size is 300x300mm and it has rotary tool allowing us to engrave on circular objects such as rings and tubes.  Machine has option for automatic serial number generation and barcode marking.
3D Printing
3D printing is additive technology meaning new layer of material is added on top of previous layer forming tangible object from 3D CAD file.  Laser cutz can rapid prototype just about any part with 3d printers. We have FDM printer that uses melted plastic wire to build objects and we have SLA printer that use photo sensitive resin and laser to cure each layer. SLA printer offers significantly higher resolution and is more suitable for jewelry making
3D Scanning
We live in 3D world but photo cameras are taking 2D pictures, sometimes 2D is just not enough, that's where 3D scanners come into play, With our state of the art 3D scanner we can scan person and get CAD model into computer that can be used to build sculpture, or do virtual fitting of clothes, or medical prototyping. Our 3D scanner can also scan certain objects, although it's mostly optimized for human body scanning.
Waterjet Cutting
Sometimes lasers are just not enough and water can be used as alternatives. Our water jets are used for metal cutting along with stone cutting.  Water jet can cut very thick peaces of material this makes it more superior to laser but at the same time water jet is not as tolerant as laser. For water jet artwork needs to have smooth lines, no rapid changes in vectors, also kerf is 1/16"
CNC Mill
Certain jobs require, old school technologies such as milling, where material is removed from the  "brick"  leaving only layers that are present in CAD file.  Todate we mostly use CNC for wax jewelry fabrication and wood box manufacturing.  Of course CNC can be used to manufacture metal parts and molds.
Flatbed Surface Ink Printing
Similarly to regular printing on paper, surface printer (direct to surface – DTS) prints on any flat surface. Laser-CutZ mostly uses surface printers to add logos or branding to enclosures along with creative projects that require printing on the surface after job was laser cut.  Printer max size is A4 (Letter) size and object needs to have flat surface in order to be printed.
Electronics Engineering
Laser-CutZ can provide engineering services such as electronics, mechanical, industrial engineering.  Our experienced team can develop just about any device and unlike any one else in NYC, we have all prototyping equipment under our hands so we can deliver job much faster for a fraction of a cost.
Prototyping
Prototyping is a process of turning CAD model or a concept to reality (to operable and tangible item). Laser-CutZ possesses enough equipment to deliver any project.  We have tools, experience and creativity to fabricate anything that is possible to imagine.
Fabrication
If you don't have specks of CAD files but you need to achieve certain goal, we can do fabrication for you.  All you need is to explain what you need to get at the end and we will figure out what methods can be used and we will deliver tangible product. Fabrication is very often used for one time projects where future mass production is not needed, but one of a kind item needs to be produced.
Soap Stamps
Laser-CutZ is historically well known for soap and embossing stamp manufacturing.  We have developed different ways to produce exceptional soap stamps to serve handmade soap making community.