Direct Surface Ink Sublimation Printer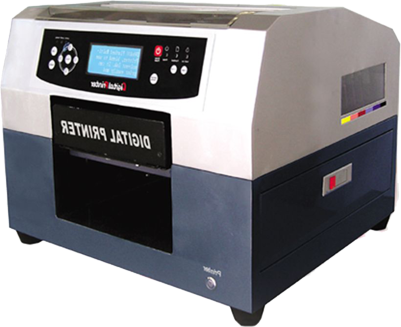 | | |
| --- | --- |
| Printer Type | Ink Jet |
| Ink | Latex, Garment Ink |
| Print Size | A4 (210x297mm) |
| Max Height | 80mm |
| White Ink: | Yes |
| Resolution | 7560*1440dpi |
| FDA | No |
Direct Ink sublimation printing allows printing straight on the surface of the object with durable ink. This means that object such as phone chase, electronic panel, t-shirt or anything else can be loaded into the machine and get printed. This printer complements our laser engraving machine as we now can print full color marking on just about any object (laser engraver does not print in color).
Laser-CutZ ink sublimation printer can print on glass, stone, wood, metal, acrylic, plastic, rubber, leather, ceramic tile, cardboard, T-shirt, fabric, bags, cotton, cell phones and case, ID Cards, lighters, pens, stationery, key, golf balls, toys and other materials and objects.
Printer has full color ink and white which allows printing on black and dark objects. There are two sets ok ink one for plastics and hard materials; another ink set allow to print on garments (DTG – direct to garment printing) this means that printer can do full color t-shirt and other fabric printing.
To get our project going click on Request Quote button and send your project details. We are NYC local company with very fast turnaround creativity and exceptional ratings!