Truth about Laser Cut Soap Stamps
If you are looking for sopa stamps to emboss logo or branding onto your products, this is what you should know.
Easiest way to produce stamps is with CO2 or YAG laser machine. Our machine is as big and as powerful as it gets but having state of the art machine is not enough! There are various settings and various client requirements.  Before you order your stamps you should know how they are mad and what you will get and perhaps what you really need for your own unique situation.
Laser engraved products are achieved by having a laser beam of certain wave length (focused light) burn out a material line by line until image is formed. Its similar to inkjet printer instead of putting ink we will burn material.  When indicated material is removed we end up with engraved product similar to the soap stamp model shown below. 3D model shows 2.5×1″ stamp with regular settings which on average results 1/16- 1/8″ letter elevation and about 1/8″ (3mm) base plate.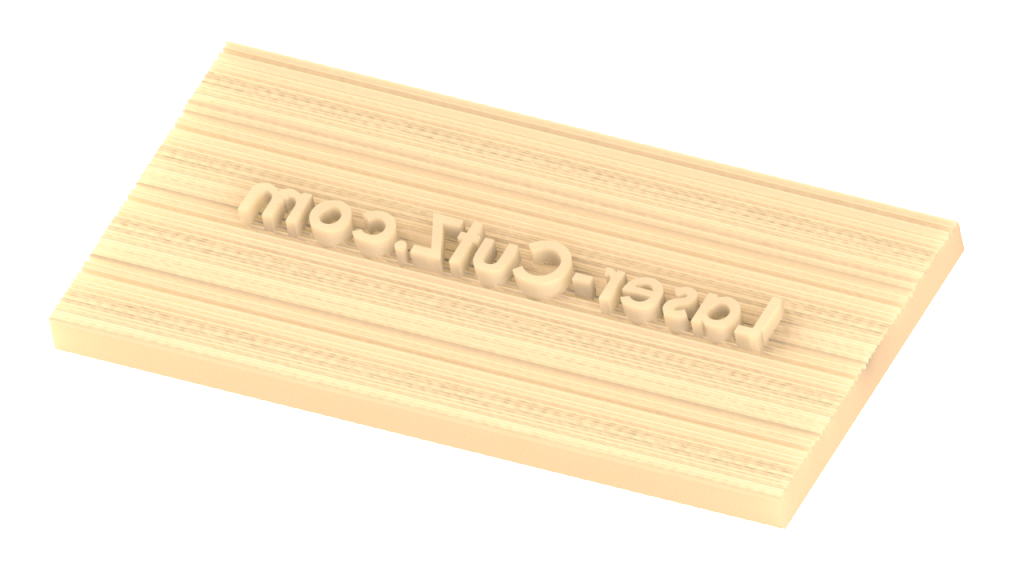 If you look closely you will see bold lettering (mirrored vertically) elevated over base plate. Those letters will emboss into your soap stamp or candle and leave the imprint.  When ordering your custom soap stamps you should notice lines on back plate. They are important side affect if laser production for engravings over 1/16″ (1.5mm) elevations. As laser power wave slightly as beams burns material, certain pats of material a engraved/burned deeper and some others not so at the end there is a relive like waves, they are very small and not significant but they are there. For better visualization we build this 3D model.   As results and presence of those waves you need to be sure that you don't over press your stamps an "waves" will also be embossed to your soap brick.
Waves can be removed during production at special request. Ex cutting stamp like regular office stamp with 1/16″ elevation will have minimal or no waves of surface of acrylic or rubber material. Which means you can press very hard and deep to the pe material without worry of base plate touching the soap.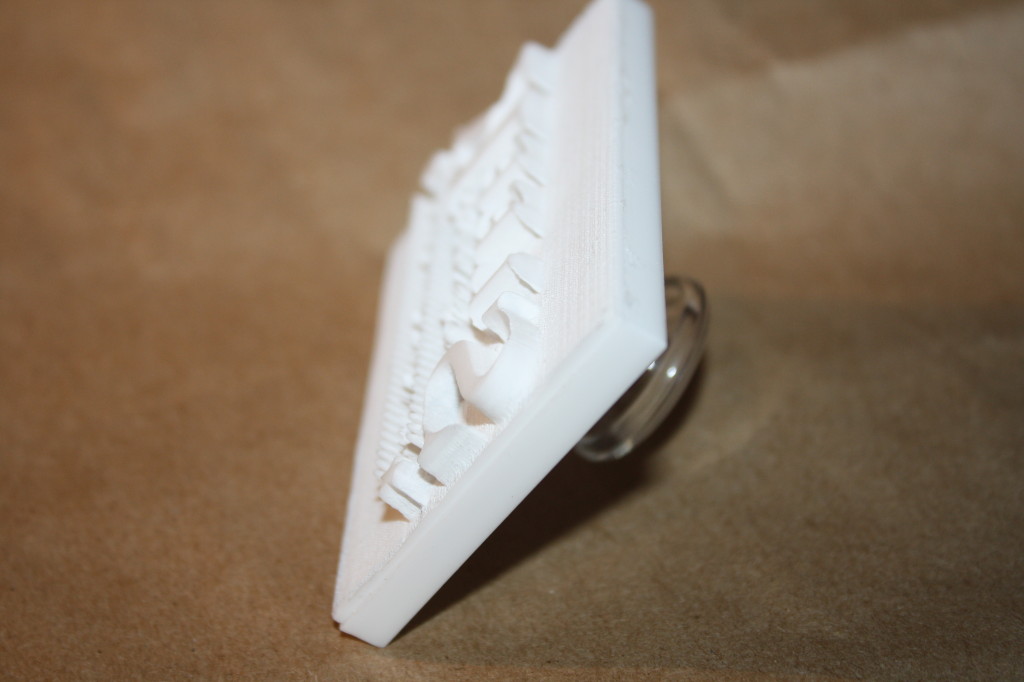 Not so over scare you in your decisions, soap stamp above is actual stamp we produces. It has base plate waves too! As you can see them they are barely visible.
Now that you know what to expect it terms of base plate, lets cover 2 types of engravings we do most for hand made soap and lotion bars.
Shallow (Regular) VS Deep Engraving
Regular Engraving – is reasonably fast produced plexi glass based stamps. They are most popular in hand made soap community. They are good for softer soaps that need light touch to imprint company's custom artwork . Artwork elevated about 1/16-1/8″ over the base plate.
Deep Engraving – if you want your artwork or lettering to go very deep in the soap material or candle wax then we recommend deep engraving. Our acrylic base plate will be almost fully used up and very often letter elevation will be near 1/4″.  To reinforce your stamp we sandwich the stamp plate on another 1/4″ plexi plate.  Deep engraving works perfectly for text stamps or stamps with minimal graphics. Stamps with extensive graphics will be done as mix between deep and regular in order to achieve best quality of output.Photo above shows sandwiched custom made deep engraved plexiglass soap stamp.
Below you can see render model for both deep and regular engraved stamps.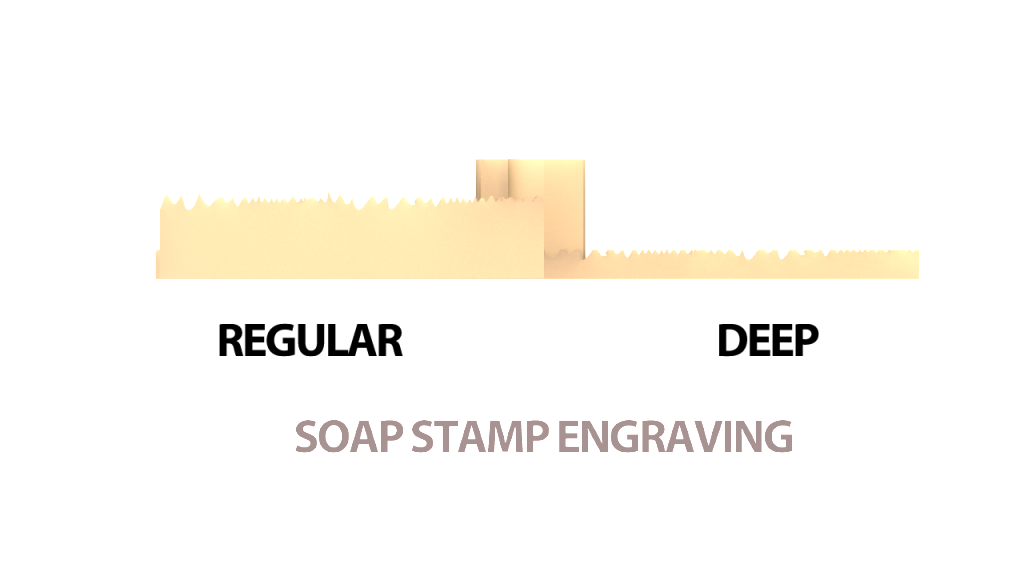 If you  are looking at more serious productions you many want to consider metal stamps (press forms) or silicon molds.  Main advantage of metal stamp over plexiglass (acrylic) soap stamps is that metal soap stamp is machined on CNC machine where material removal carbide bits are carving on the same height at all times which ensures perfect surface of back plate.  Perfectly carved metal or wax module will endure that if stamp is over pressed the surface of the soap will still be smooth. Also obvious advantage of metal stamp is durability and shelf life. Metal stamps are almost impossible to brake so under normal circumstances they should serve you forever. The disadvantage if metal soap stamp is high cost and slow turnaround. Metal stamp may take 3 weeks to manufacture where acrylic stamp can be done in same day if needed.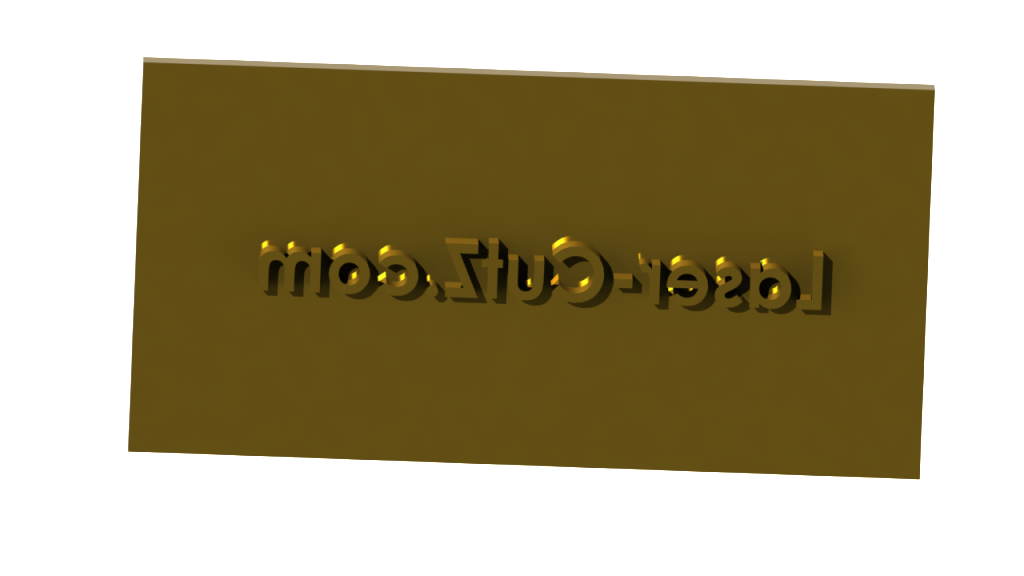 Photo above shows sample rendering of metal stamp made of regular brass.  If you want to cast your sopa in pre-made forms we can recommend  silicone  molds. they can have multiple cavities and have your logo be part of the mold already.  Molds are the fastest way for mass production  you can have 50 cavities and have 50 soaps made at a time.  Obviously custom silicone molds are priced with production prices.
Weather you are small organic soap enthusiast, small business or growing medium size company we can always help you add brand identity to hand made and natural products.  You can order acrylic, metal or silicon modules on our order page specifically designed  for soap accessories orders. If you have any questions free free to call (646-657-2626 ext 3 ) us or use contact page
Ready to order your custom made soap stamp? Click on button below