CO2 Laser Cutting Machine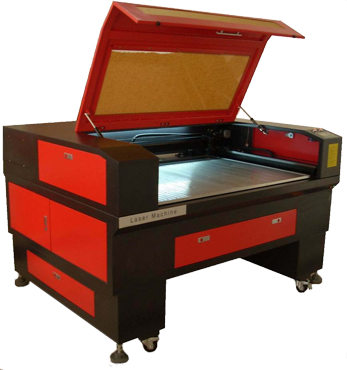 | | |
| --- | --- |
| Laser Type | CO2 |
| Laser Power | 150W |
| Bed Size | 35×24″ (900x600mm) |
| Max Speed | 600mm/s |
| Tolerance | 0.3mm |
| Features | Cutting, Engraving |
| Certifications | FDA, ISO |
| Modifications | Rotary Attachment, Custom Lighting, Firmware |
Laser cutting idea was around from beginning of 20th century, practical application of current CO2 laser machines was tested in late 1960. Since then machine design did not change much but power efficiency, precision and automation was added. Major upgrade for modern laser cutting machines was witch from DC excited laser tubes to RF exited tubes. This change permitted longer laser tube life. Average RF tube of 100-150W is claimed to operate up to 10,000 hours. In reality numbers are less than advertised but Radio Frequency laser tubes are definitely much more superior then old DC laser tubes.
LaserCutZ machine is customized by our engineers to deliver superior quality and features not available anywhere else. Very noticeable modification done by Laser-CutZ is firmware of the laser controller. This modification allows faster and smarter rapid moves (laser head moves) which at the end increase cutting time and provides better edging to manufactured parts. Another LaserCutZ modification is adaptive optics and ventilation. Most laser cutting and engraving machines require frequent maintenance because optical system gets dirty and as result machine performance is degraded. Laser-CutZ engineering team believes that this problem occurs because the design of the machine, so machine is used in shop was modified and as result machine can operate much longer without maintenance.
Services provided by LaserCutZ include laser cutting, laser engraving, and laser marking. All jobs are done locally in Brooklyn, New York but we are happy to do domestic and international shipping for your orders. Our laser cutting machine is capable of cutting most organic materials which includes but not limited to Plexiglas (acrylic), abs plastics, paper, cardboard, wood, chipboard, rail board, fiberglass and carbonfiber, plywood, fabric, lather and many other materials. On laser engraving side Laser-CutZ can do all materials that we can cut + steel and some other metals, glass, ceramics. Laser engraving only etches the layer of material there are no coloring. Exception is burning material, such as wood, paper as they will turn dark, acrylic will be white and most materials will not change color. Anodized aluminum usually white
Are you ready to place an order for your project? Click blue button Request Quote. We also have full color ink sublimation printers for direct to object printing.